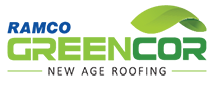 Ramco Greencor Ramco Greencor is a superior roofing product, manufactured using European Technology and specially developed (PVA), Poly Propylene Fibres to give the world its first ideal industrial roofing sheets. Ramco Greencor roofing sheets are 100% asbestos-free. The qualities that make these non-asbestos roofing sheets stand out are:
Keeps interiors cool: Ramco Greencor has very low thermal conductivity property which results in lower conductance of heat or cold. It keeps internal temperature cooler than ambient temperature.
Increased Productivity: Plant level manufacturing output responds negatively to high temperatures. The magnitude of losses is economically significant. Ramco Greencor ensures a better working environment.
Durability: Ramco Greencor sheets have a long life of upto 50 years and are trouble-free and maintenance-free.
Zero Noise Pollution: Compared to metal roofing sheets, Ramco Greencor ensures calm and quiet environment.
Chemical Resistance: Ramco Greencor has excellent chemical resistance and is an ideal choice for Chemical Plants and Oil Manufacturing Facilities.
Ramco Greencor Roofing Sheets gives both durability and productivity compared to metal roofing sheets and are the ideal choice for Pharma, Textile, Manufacturing, Food, Paper & Pulp, Oil Manufacturing, Chemical & Fertilizers, Warehouses, Dairy & Poultry Farms, Railway Stations and Bus Stands.
Ramco Greencor non-asbestos roofing sheet is a part of Ramco's vision of green constructions and is a GreenPro certified product from CII-Green Products and Service Council. GreenPro is a mark of guarantee that the product which bears the GreenPro label is environment friendly throughout its life cycle.