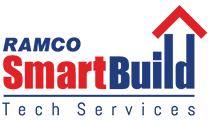 In a pioneering initiative, Ramco Industries has launched -Ramco SmartBuild Services- which will offer 360o support in in Green Dry construction.
Design & Material Consultancy
RIL in its endeavor to encourage Green Dry construction in India offers design and material consultancy services for projects. The company has a team of design professionals who will help esign your projects. We help in concept development and BOQ estimation for the project you have in mind.
Project Execution
RIL executes Dry construction component of projects across South Asia. With its rich experience and expertise in construction industry, Ramco can help you build your projects adhering to stringent quality process within the stipulated time and budget.
Site Quality Assurance
RIL understands the need for quality inspection of the construction process as it progresses. Ramco Quality Engineers visit every major projects at regular intervals to inspect the quality of construction and give suggestions and tips to the applicators at the site. They also offer solutions to problems faced at site due to wrong processes and material selection.
Training in Dry Construction Methods
The company-s in house training team will train and help applicators to gain hands-on experience in emerging construction practices and will help them deliver high quality solutions to their customers.